Check out Chris Guerreros's album, "Paradise Road"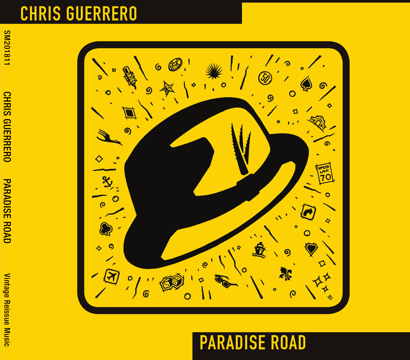 This album is one of the best projects I have ever worked on.  Every artist on here is amazing.
Check out Chris at www.ChrisGuerreroMusic.com
MiChelle Garibay-Carey sang a wonderful duet on "Someday"
Check out her new album Love Dance while you are at it.
-RB
Produced by RB Blackstone / www.RBBlackstone.com
Additional content and contact info at www.ChrisGuerreroMusic.com
 
 
All songs written by Chris Guerrero
except 'Sabor Sabor' written by Antonio Flores.
Produced by RB Blackstone
Engineered by RB Blackstone
Second Engineer Mark Sinko
Mastered by RB Blackstone
All arrangements by Chris Guerrero
Recorded at Salmon Peak Studios
Mixed & mastered at Sound Madness in San Antonio, TX
Joe Posada appears courtesy of Baby Dude Records
Cover illustration & design by DeoGram / Trey Hermann
Manufactured by CoreMedia in San Antonio, TX
© ℗ 2018 Vintage Reissue Music ASCAP
All Rights Reserved
Chris Guerrero piano, vocals, keyboards,
acoustic guitar, cool hat
Jimmy Castillo guitars
J. Posada drums, background vocals
Andrew Bergmann upright bass
Vicente Rodriguez percussion
RB Blackstone keyboards
Joe Posada saxophone
Al Gomez trumpet
Lori Ramirez Castillo background vocals
Anthony Pearson background vocals
Chris Villanueva piano, keyboards / tracks 1 & 4
Mike McClean electric bass / tracks 3 & 6
Gilbert Velasquez nylon string guitar / track 4
Eric Casillas percussion / track 8
SM201811 © ℗ 2018 Vintage Reissue Music ASCAP
Unauthorized duplication is a violation of applicable laws. All rights reserved.